Instagram's Reel feature is the best way to build your community, boost engagement, and extend reach in 2023. However, creating and editing reels can take a lot of time, skill, and effort. In this blog, you'll learn how to create the best reels and really tap into their power which is your sure-shot way to Instagram fame.
Instagram Reels: What Are They?
Instagram Reels are funny, short-form videos that people can watch in the separate Reels section on the app. They are the newest way to share fun, entertaining, educational, and inspirational content on Instagram. Many would argue that Reels are similar to TikTok since they are displayed in a vertical format in a limitless, scrollable feed. Reel timings can range anywhere between 15 seconds and 90 seconds and you can record fun videos to trending music, and add engaging text or fun filters.
High-quality Reels are the best way to get new Instagram followers while keeping current ones hooked since they appear on feeds based on relevant interests.
Instagram Reels: How to Make Them 2023
There are four aspects or steps to keep in mind while making a successful Reel.
Storyboard Concept
Shoot Instagram Reel
Preview and Add Effects
Share Instagram Reel
The First Step: Storyboard Your Concept
Failing to plan is the same as planning to fail. So it's essential to create a storyboard for your reel concept to help you along the way. If you are confused about how to go about this, consider the following questions:
What topic is most relevant to your account, especially if you are a brand or business? Skincare? Finance? Cryptocurrency? Food Recipes?
Do your Reels go hand-in-hand with the posts on your Instagram feed?
Who is your brand's targeted audience?
What kind of content will speak to your brand's targeted audience? Is it a tutorial? Behind-the-scenes and bloopers? A day in the life?
You should also consider spending a few days on Instagram just as a user to figure out the visuals, trends, aesthetics, and text that's popular in your industry. Once you've got the hang of the direction your Reels are supposed to fo in, storyboard your content. By this, we mean break down the clips you need to record in order to create the full story. This will give you a visual understanding of how your audience will view your Reel, and give you a clear plan to work along.
The Second Step: Record Your Instagram Reel
Ah, the time is finally here to shoot your Instagram reel. You can shoot a Reel in three distinct ways:
Now it's time to shoot your Instagram Reel.
The Reels tab
The Instagram home screen
The Instagram Stories camera
1. The Reels Tab: Using it to Make a Reel
To use the Reels tab to make a reel you simly need to go to the Reels tab and tap on the camera icon on top of your screen, to the right.
2. The Instagram Home Screen: Using it to Make a Reel
Simply open the app to access your home screen and press the "+" button on the bottom of your screen and lastly, press "Reel."
3. The Instagram Stories Camera: Using it to Make a Reel
All you need to do is swipe left on your home screen to shoot a reel from the Instagram Stories camera. The next step is to tap "Reel" on the bottom menu bar.
Creating Reels is simple enough, it's just a series of clips either shot in single stream or externally recorded for uploading.
The Third Step: Preview and Add Additional AR Effects and Text
Simply press "Next" and "Preview" when you're done creating your Reels. You can use Instagram's countless effects to bring your content to life. The Reels tools are similar to the Stories tools. You can use text to say more or add explanations to your reels. You can also use the draw tool to add some funny designs and stickers to include GIFs, captions, the time, and other fun stuff.
You can also add AR effects created by other users on Instagram, or choose from the countless selection of filters. You can create a voiceover or use background effects to add sound effects from Instagram's audio library to make your content more captivating. You can use the trending Reels section to look up trending audios and explore them for your next Reel!
The Fourth Step: Share Your Instagram Reel
After unleashing your creative side, it's finally time to share your content. Make sure you choose an eye-catching cover for your Reel and add a compelling caption that adds more to your reel.
Instagram Reels: 3 Tips on Creating the Best Ones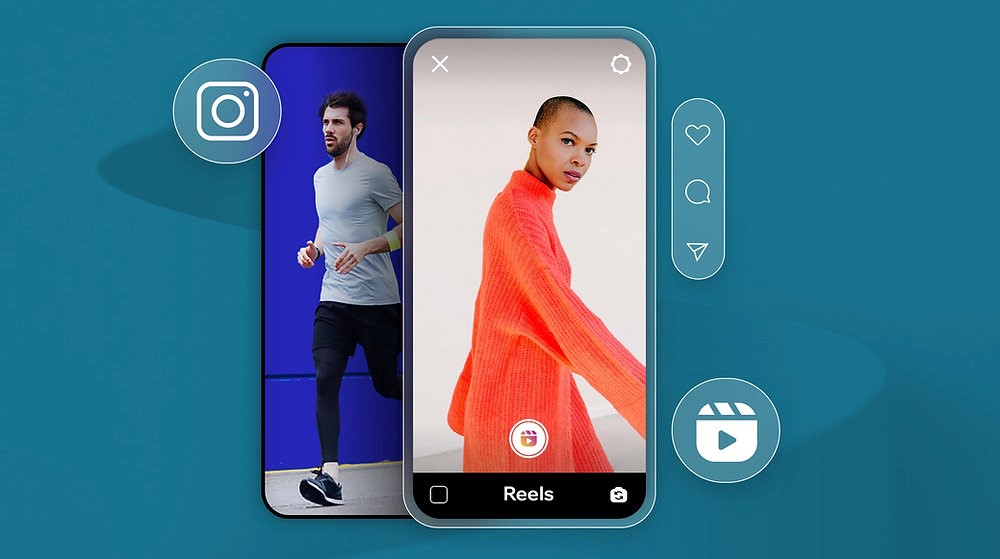 Now that you know how to simply create a reel, here are some tips on creating valuable content that gets your audience to engage with it.
Hook Your Audience: According to various studies, brands and influencers only have 8 seconds to hook their audience. Even a goldfish has a greater attention span than that, capping at 9 seconds. Usually, exciting announcements, open-ended questions, and catchy visuals help hook audiences quickly. Sometimes, simplicity is key, and you just need to figure out what hooks your targeted audience's attention.
Provide Value: Instagram Reels can easily boost your brand's reach, engagement, and sales. But you need to give your audience some value, while they watch your reels. Just like this blog, you can give your targeted audience tips and tricks about your industry.
Hop on Timely Trends: Trending audios, challenges, questions, and memes are a perfect way to connect with your audience. Everyone loves relatable, funny, trendy content and you can really captivate yur audience with a trend.
The Bottom Line: Instagram Reels
Regardless of whether you're a brand, a business, or an influencer, you need to harness the power of Instagram Reels to boost your marketing strategy. Reels give you a surefire gateway to connecting with your audience, building trust, and increasing your reach. All you need is some planning and some creativity, and you'll be able to create compelling Instagram Reels in no time.