Image quality is of the utmost importance in the realm of poster printing. The quality and detail of the photos may make or break the effect of the final result, whether you're making promotional materials, artwork, or event posters. However, it can be difficult to upscale low-resolution images for poster reproduction without sacrificing quality. This is where VanceAI Image Upscaler can be of assistance. This potent AI image upscaler application lets you upscale or enlarge photos for poster printing, resulting in sharp, high-resolution prints that stand out. With VanceAI Image Upscaler, you can say farewell to posters with pixels and hello to prints of professional quality.
What is VanceAI Image Upscaler
The VanceAI Image Upscaler is a state-of-the-art AI-powered application designed to improve the resolution of images and quality. This innovative solution, provided by VanceAI, employs sophisticated algorithms to analyze and enlarge pictures while preserving crucial details, ensuring that your poster reproductions are crisp and vibrant. Whether you work as a graphic designer, a photographer, or a marketing expert, VanceAI Image Upscaler gives you the resources you need to advance your poster printing.
The Reason for Producing High-Quality Posters
Captivating the Audience with Visual Impact
High-quality posters are effective instruments for attracting the attention of passersby, as they do so immediately. With vivid hues, crisp images, and a compelling layout, these posters stand out in crowded environments and leave an indelible mark on viewers. Posters that are visually arresting, whether displayed in public spaces, on billboards, or in exhibitions, pique the interest of potential consumers, event attendees, and art enthusiasts.
Inciting Emotions and Motivating Action
Posters that are visually appealing and emotionally powerful have the ability to elicit emotions and inspire action. Posters of artwork, for example, can elicit feelings of happiness, awe, or introspection, encouraging viewers to appreciate art and seek inspiration. In contrast, promotional posters can generate anticipation and excitement for upcoming events, enticing individuals to attend and partake.
Establishing Credibility and Expertise
Posters of superior quality convey a level of professionalism and attention to detail, thereby enhancing the credibility of events, businesses, and art exhibitions. Viewers perceive these posters to be trustworthy and reliable, which influences their decision-making positively. A professionally designed and printed poster demonstrates a dedication to excellence and contributes to the overall success of the message or event being promoted.
Increasing Participation and Interest
The captivating nature of high-quality posters increases the audience's engagement and interest. Engaged viewers are more likely to retain the information presented in the posters and take action as a result. Whether the audience is attending an event, viewing an art exhibition, or learning about a product, high-quality posters contribute to a greater level of engagement.
Return on Investment (ROI) Maximization
Investing in high-quality posters results in a greater return on investment in terms of their impact and ability to reach the intended audience. Posters are relatively inexpensive and have a longer lifespan than other advertising mediums, particularly when placed in strategic locations. Their ability to attract interest and pique curiosity makes them advantageous for any marketing or branding endeavor.
Why Should You Use VanceAI Image Upscaler for Poster Printing?
VanceAI Image Upscaler offers numerous advantages for poster printing image upscaling. First, its AI-driven technology guarantees that enlarged images retain their clarity and sharpness. This prevents the loss of crucial details and preserves the original image's integrity. Second, the application is user-friendly and requires no technical knowledge, making it accessible to all users regardless of experience level. Finally, VanceAI Image Upscaler saves you time and effort by automating the upscaling process, so you can focus on other aspects of your poster design.
Guide to Upscale Poster Images with the VanceAI Image Upscaler
Step 1: Upload Your Image
Start by uploading the desired image to the VanceAI Image Upscaler platform. Click the "Upload Image" icon and choose the image from your device.
Step 2: Select the Settings
Once the image has been uploaded, the VanceAI Image Upscaler provides a variety of upscale options. These settings enable you to tailor the upscaling procedure to your specific needs.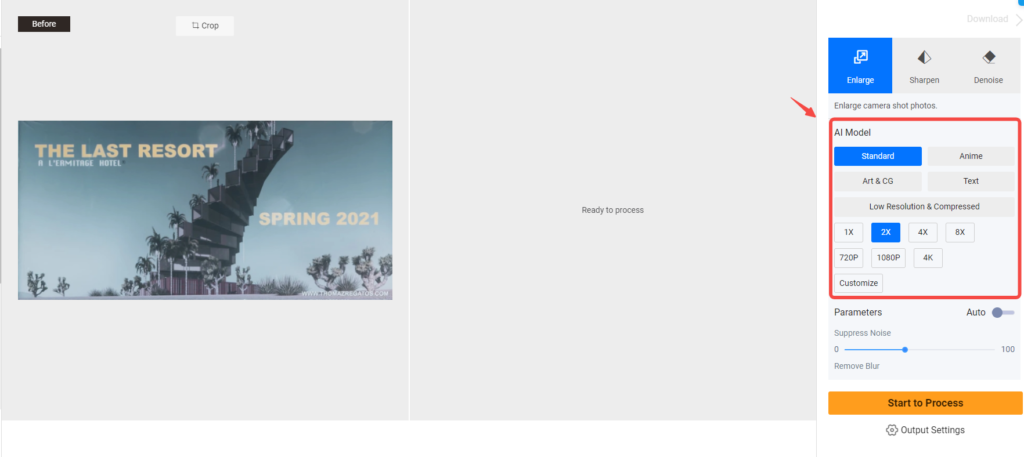 Step 3: Start Upscaling
To initiate the upscaling process, simply click "Start" after selecting the desired upscaling parameters. VanceAI Image Upscaler will analyze the image and enhance its resolution using AI algorithms.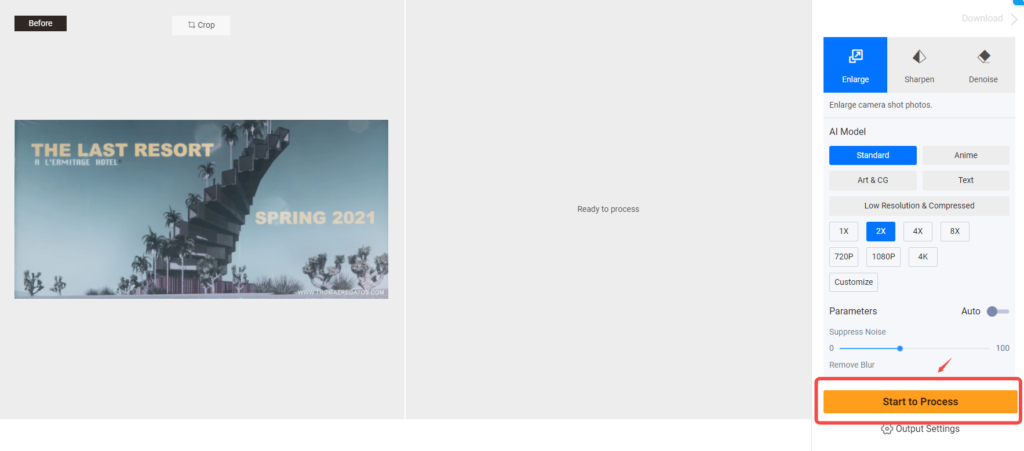 Step 4: Download the Image
After the process of upscaling is complete, you can preview the result. When you are satisfied with the upscaled image, Click the "Download" button to save the image in high quality to your device.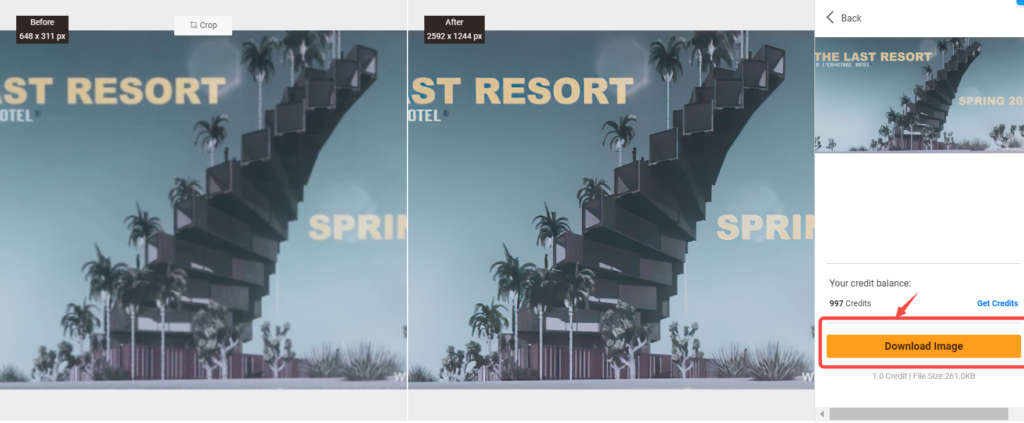 About VanceAI
VanceAI is the foremost provider of AI-powered image solutions for diverse creative endeavors. As one of its flagship products, VanceAI Image Upscaler enables users to improve image quality and transform conventional visuals into extraordinary works of art.
In addition to the sophisticated image upscaler, VanceAI offers an array of other potent tools, such as the background remover. This tool can remove photo background in seconds, which enriches the creative process. These cutting-edge tools allow artists, photographers, designers, and businesses to effortlessly produce breathtaking, professional-grade results with their projects.
Whether you want to create high-quality posters, digital paintings, or captivating brand visuals, VanceAI's inventive photo editor will revolutionize your creative journey.
FAQs
Can VanceAI Image Upscaler upscale images without degrading their quality?
VanceAI Image Upscaler employs cutting-edge AI algorithms to upscale images without degrading their quality, while preserving essential details.
Is VanceAI Image Upscaler suitable for printing posters of large dimensions?
VanceAI Image Upscaler is intended to upscale photographs for various formats, including large-sized posters, without sacrificing quality.
Conclusion
Feel the difference that VanceAI Image Upscaler makes in enhancing the image quality of your poster reproductions. Whether you are a professional designer or an art enthusiast, this AI image upscaler will assist you in creating breathtaking and captivating posters with a lasting impact. Unlock the full potential of your poster printing projects with VanceAI Image Upscaler and take your creative efforts to new heights. Now is the time to try it out and see the remarkable results for yourself.